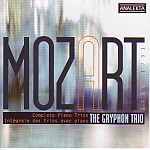 WOLFGANG AMADEUS MOZART
Complete Piano Trios



The Gryphon Trio
For reasons that are hard to pin down, Mozart's six piano trios (despite the late date of five of them) do not rank among his best chamber music. It may be that their consistent major-key brightness, tendency toward moderate tempos in so many of their movements, and generally relaxed demeanor marries less than ideally with Mozart's customary formal symmetry and melodic breadth. Or it may be that most performances (and I've heard a lot of them over the years) simply take themselves too seriously and let the music bog down, either in excessive heaviness or inappropriately phrase-fracturing fussiness of detail. These performances go a long way toward proving that the music is better than it usually sounds, and no praise can be higher.
Specifically, what the Gryphon Trio brings to these pieces is flow--that sense of effortless forward momentum that characterizes all of Mozart's (and just about everyone else's, come to think of it) best work. You can hear this immediately in the first movement of K. 496. Like most ensembles, these players make dynamic adjustments to the "petit reprise" bits of the second subject. In other words, immediately repeated phrases are played more softly than originally. But rather than a sudden and distracting drop to an exaggerated pianissimo, the adjustment is subtle, just enough so that you listen to the melody with fresh ears. Here, and in too many other instances to mention, the Gryphon Trio shows that it understands how to inflect Mozart's lyrical lines without ever losing sight of their ultimate destinations, engaging your attention without disfiguring the music in the process.
The same virtues admirably serve the variation movements in this same work (finale) and in K. 564 (central andante), where the ability to characterize while leading the ear on from one section to the next offers a veritable clinic in good taste operating within the bounds of the classical style. Perhaps the most impressive achievement is the performance of K. 502 in B-flat, whose final Allegretto, coming after the long larghetto slow movement, for once rounds off the work without any suggestion of anticlimax. Of course the lion's share of the work here belongs to the piano, and Jamie Parker proves himself a Mozartean of very high caliber indeed. I was also very impressed by the way that cellist Roman Borys follows the piano's bass line, blending in when he must, but emerging effortlessly to partner the violin when Mozart asks him to. Warmly pellucid sonics round out a pair of discs representing a first-class achievement in every way. [2/1/2006]