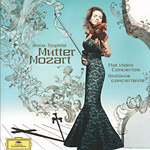 WOLFGANG AMADEUS MOZART



Violin Concertos Nos. 1-5; Sinfonia concertante

Anne-Sophie Mutter (violin); Yuri Bashment (viola)

London Philharmonic Orchestra

Anne-Sophie Mutter
Anne-Sophie Mutter takes on dual roles of soloist and conductor in this new complete Mozart Violin Concerto collection, turning in performances of exceptional polish, vitality, and coherence. Mutter's virtuosity is never in doubt as she plays with full, confident tone and spirited energy. This, plus her stylish and wholly idiomatic interpretations remind us of just how brilliant and accomplished a performer she is--refreshing after last year's bizarrely self-indulgent Tchaikovsky concerto recording. Throughout this set Mutter places her prodigious talents and skills (to quote the well-worn phrase) "in the service of the music", presenting Mozart pretty much unfiltered.
She's marvelous in the arching melodies of No. 5 (the slow movement is all serenity) and the vibrant rhythms of No. 3, while No. 4 has a harmonic richness that looks forward to Mendelssohn. Like Perlman before her, Mutter communicates her sheer pleasure in playing this music, though she avoids his tendency to pour on the schmaltz. The set offers a substantial bonus in the Sinfonia concertante, with violist Yuri Bashmet joining Mutter in a sparkling and tonally sumptuous rendition, worthy of comparison to Böhm's. The London Philharmonic plays handsomely under Mutter's direction, while Deutsche Grammophon's solidly focused recording nicely balances soloists and orchestra. This is a quintessential modern Mozart violin concerto collection--a highly recommendable achievement. [1/17/2006]
--David Hurwitz